How the Invoice Factoring Process Works
Step 1 – Inquiry Call
The first step begins with an initial phone call. You can either call us or complete a rate form and you will be connected with a factoring specialist. We'll spend a few minutes learning about your company and quickly determine if we're the right financing fit for your specific company needs.
Step 2 – Application & Rate Proposal
One of our factoring specialists will email you our one-page application. You can complete the application entirely from your desktop. And, you are not required to link to your accounting software or provide bank account access. Once we receive your completed application, a factoring specialist will send a proposal with the lowest factoring rate we can offer.
Step 3 – Submit Invoices
Once you are approved, you submit invoices to your dedicated Account Representative who will be your main point of contact for every transaction and will know the details of your account. Invoices can be submitted via email, fax, mail, FedEx, etc. Choose the format easiest for you and we'll handle the rest.
Step 4 – Get Funded
Funds get deposited directly to your account in a matter of hours. You can track the entire transaction by logging into your account online 24/7.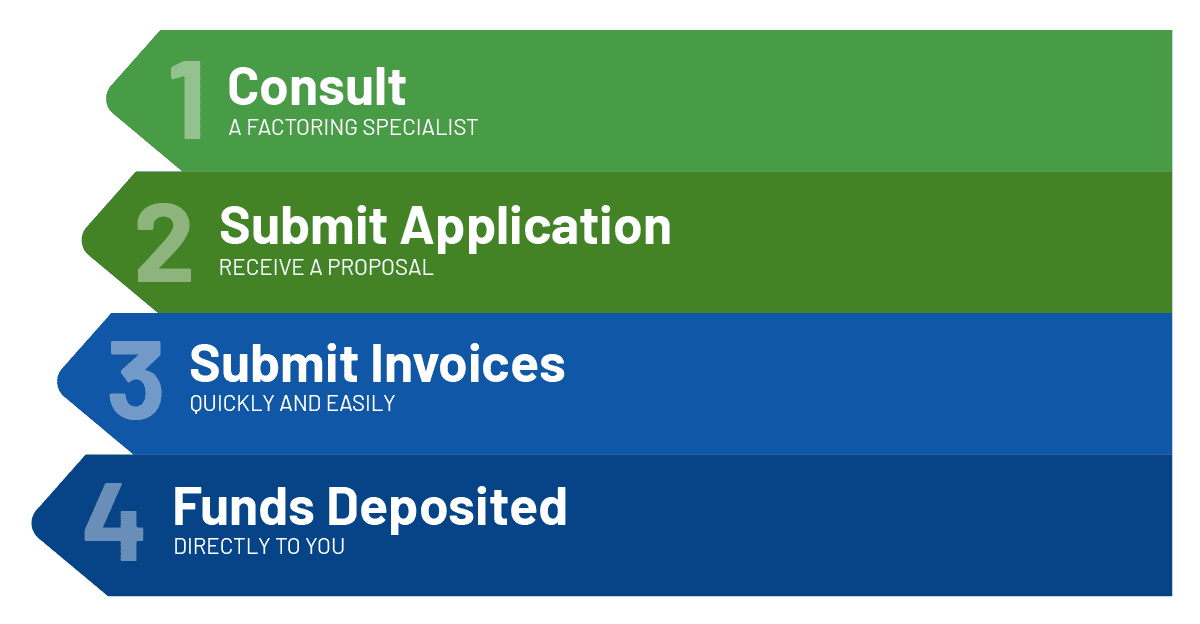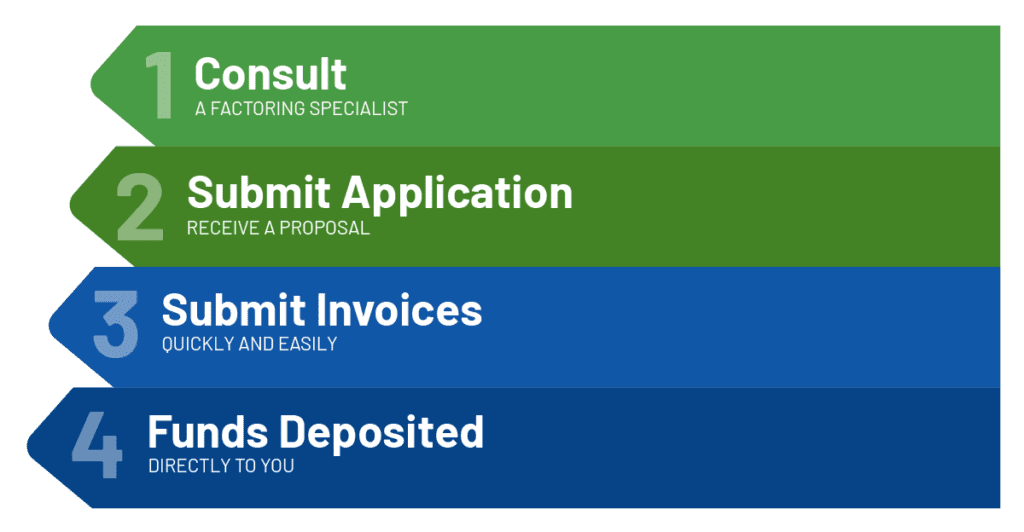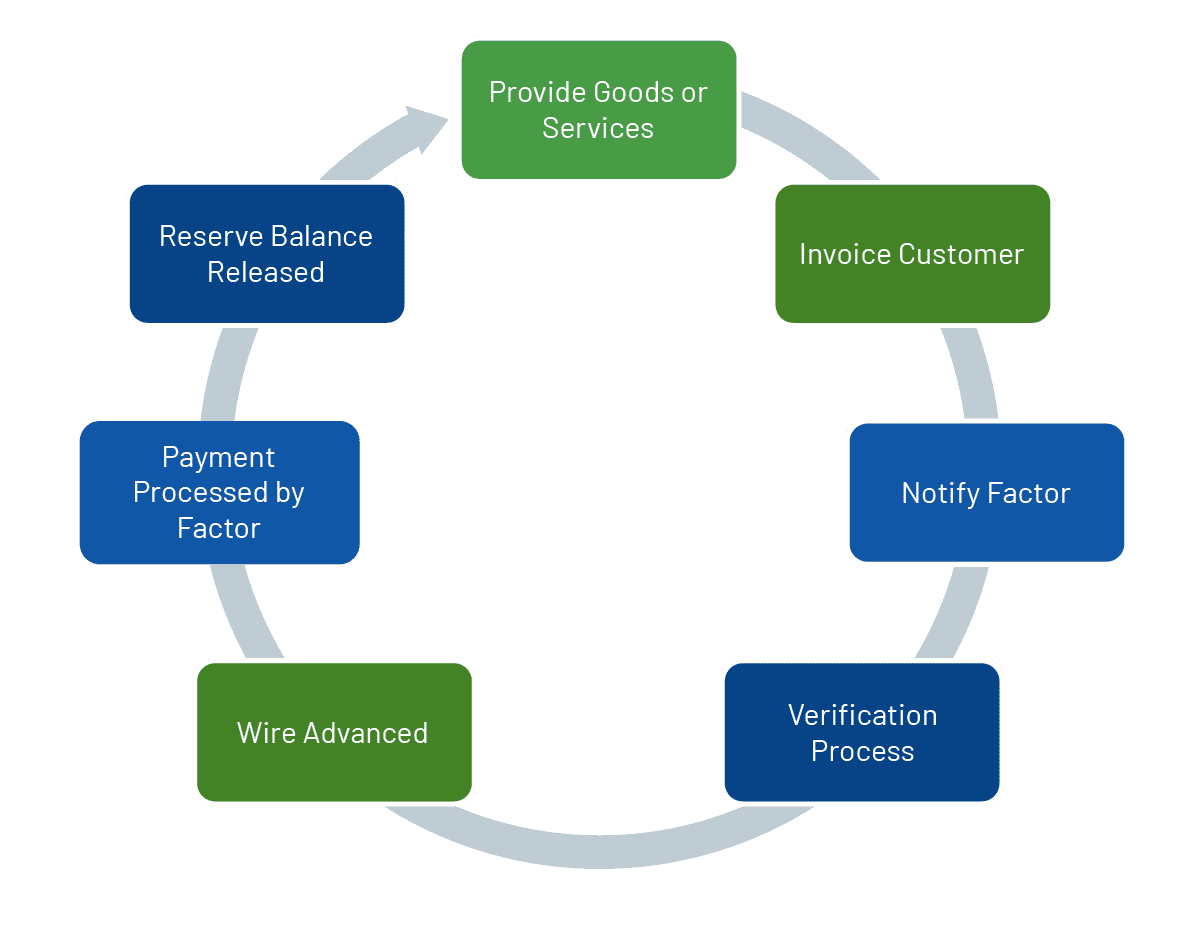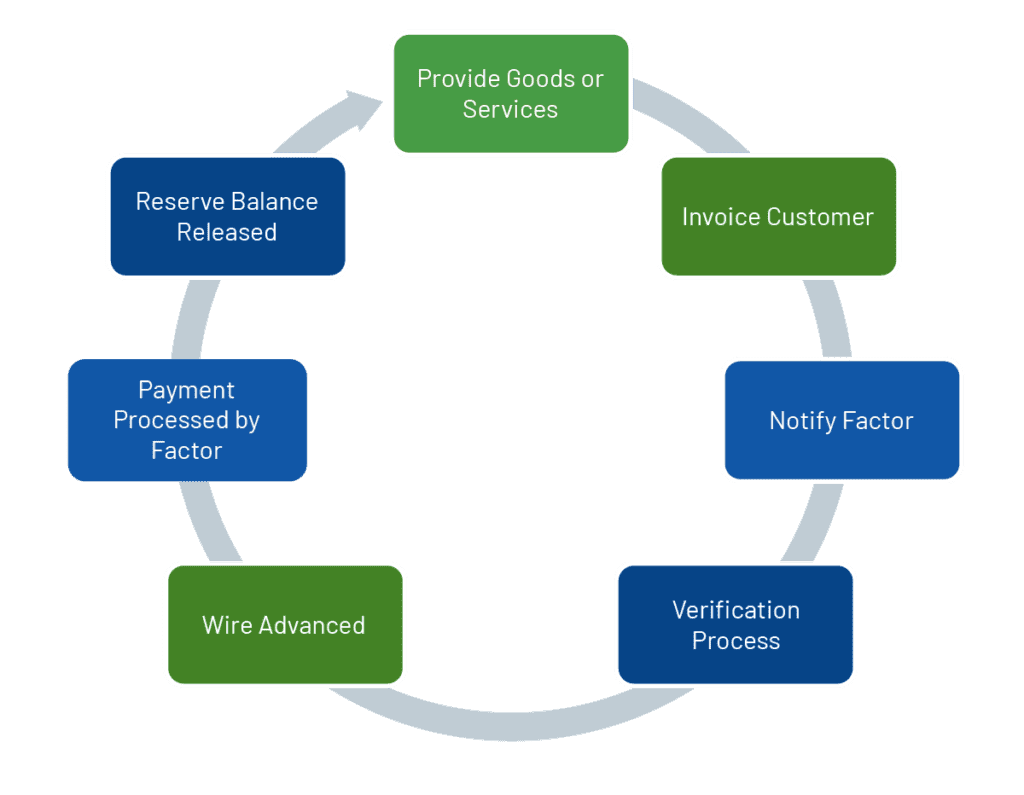 How Does the Invoice Factoring Process Work?
Although invoice factoring might interest your company, one of the best ways to know if it's right for you is to better understand the invoice factoring process. The best factoring companies try to make the process easy on your business. Universal Funding, a top-rated factoring company, helps you to clearly understand the different roles involved with getting your business the cash it needs through the sale of your accounts receivable.
Here's a graphic that outlines the simple process of invoice factoring.
Your Role in Invoice Factoring
You need to maintain a good relationship with your customers, even when you factor their invoices. You provide your service to your clients and create an invoice. A copy may be sent to your clients so they know how much to pay. If you choose to use invoice factoring, you then send the invoice to us as well. Typically, the more invoices you factor, the lower the rates will be.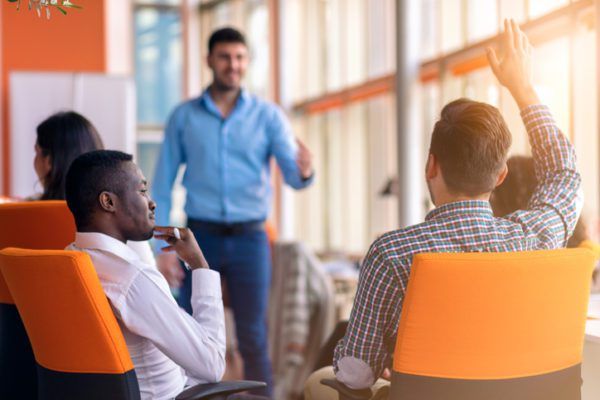 The Role of the Factoring Company
The factoring company pays you a certain percentage for the invoices as per our agreement. We notify your customers where they need to send their payment, which is made payable to your company. We then wait for your customers to pay the invoice amount within the agreed upon terms. If the amount is left unpaid, we work with your business for further options. Once the customers pay in full, we pay you the remaining balance, less any fees.
RELATED: 10 Considerations When Selecting the Best Factoring Company for Your Business
Your Customer's Role
Your customers continue to receive the same great service from you they have come to expect. The only change they experience during the invoice factoring process, is where they send their payment. Instead of sending payment to you, they will send it directly to the factoring company.
Universal Funding Streamlines the Invoice Factoring Process
Invoice factoring does not have to be a complicated process. It's not like applying for and paying back a loan. You do not need to calculate interest or arrange for installed repayments.
By leveraging the invoice factoring process, businesses can access immediate cash flow, improve their working capital position, and focus on their core operations while leaving the management of accounts receivable to the factoring company.
Here is how the invoice factoring process works once you have been approved:
Here's what our clients have to say
Feedback from our clients makes us a better factoring receivables company. Here is a collection of comments provided by some of our clients who shared how Universal Funding helped to achieve their business goals. Feel free to scroll through the videos below to learn why you you'll love being a referring agent for Universal Funding and why our clients love our services.
Learn how invoice factoring can help your business with steady and reliable cash flow.
Get You the Cash You Need With Invoice Factoring
You don't have to stress about how you're going to pay your company bills, if you'll have late fees, or how long it will take to apply for another loan. Universal Funding can get you the working capital you need with quick and easy invoice factoring.