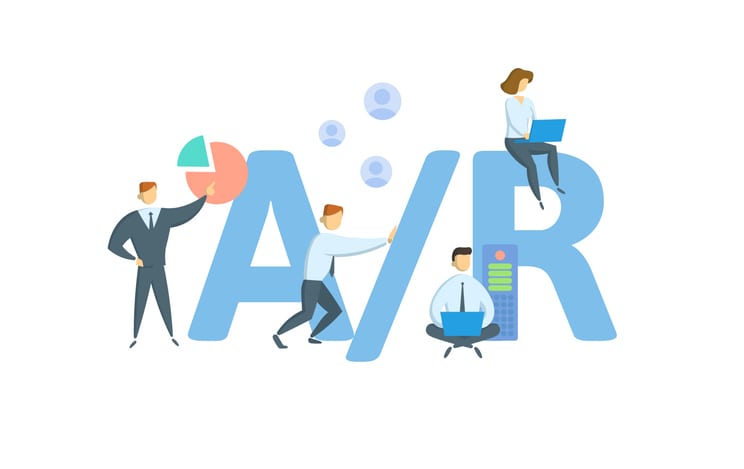 Accounts Receivable Team's Actions Part of Brand Experience
It is common practice for accounts receivable (AR) processes to be managed by the finance department. After all, a sales invoice is an accounting document, and chasing debt is a finance problem. It may be practical for accounts receivable to be managed by the finance department. But it would be a mistake to forget that AR is also a customer service function. So, what does managing accounts receivable have to do with customer service? Here ten reasons why accounts receivable should be viewed as an extension of the customer service function.
1. Another Touchpoint
Any contact a customer has with a business affects the person's opinion of the brand. In that respect, the accounts receivable department is no different from any other customer-facing department. How efficiently invoices are raised is a part of the customer's experience. And how collections are handled will affect the relationship with the customer, too. So, rather than being a function divorced from customer service, AR is another crucial customer touchpoint.
2. Essential Part of the Onboarding Process
How a customer account is set up could be the final hurdle in the sales process. If the finance receivable department is slow in approving and setting up customer accounts, it could delay orders. Consumers and businesses alike want a seamless process between deciding to buy and making their purchase. The AR account setup process needs to be as slick and professional as any other part of the sales process.
3. AR Needs to be in the Customer Service Information Loop
Chasing payment of an unpaid invoice disputed by the customer would be highly embarrassing and likely to inflame the situation. Likewise, making sales calls to a customer whose account has been passed to a debt collection agency would not be a smart move. These are only two examples of why the AR department needs to be included in the flow of customer service information. 
4. Dealing with Account Queries
The accounts receivable department will be the first port of call when customers have accounts queries. These queries might be about billing errors that have been made, or a customer might want to confirm prices on an invoice. The information needed to answer these queries may be held in the finance department. But the nature of the call is unquestionably customer service related and is best be handled as such.
5. Essential for Customer Retention
In many businesses, the accounts receivable department becomes the main point of contact after the initial sale. Existing customers might see an account manager several times in a year. But most contact with the company will be via the accounts receivable team. So, the AR team must be aware of the role it plays in retaining customers. How AR staff deal with disputes and collections could sway a customer's decision to stay loyal to the brand or look elsewhere.
6. Affects Brand Reputation
People love to vent their anger on social media. A customer who has a bad experience with an AR department will likely tell their friends all about it on Facebook or Twitter. Customers should find it as straightforward to get an answer to account queries as it is to place an order. Accounts receivable and collections departments are also often viewed with suspicion. A call or letter from a company's AR department can be unsettling for some people. So, collection calls should be handled sensitively, at least at first, because heavy-handed collection methods will soon gain a brand a bad reputation.
7. Every Customer is Unique
There can be a tendency for AR departments to treat customers like numbers. The first thing an AR representative might be interested in is whether the customer is a good payer or bad. However, the first thing that any customer should be made to feel is valued and unique. For example, a customer may not always pay invoices on the due date but still settle their bills reliably a few days later. If that were the case, a customer-service-focused AR department would not chase payment earlier than a week or so days past the due date.
8. Another Opportunity to Sell
Every contact a customer has with the company is an opportunity to sell. A call to the accounts receivable department may not be the right time to sell a product or service. And the AR team might not be the right people to do the selling. Even so, accounts receivable staff can promote the brand and be ready to pass the call onto a sales representative if the opportunity to do so arises. At the very least, a customer-service-oriented AR representative will ask if there is anything else the customer needs after dealing with the AR query.
9. Dealing with Complaints
The accounts receivable department is often called upon to deal with customer complaints. A customer may be refusing to pay an invoice because they are not satisfied with the product or service, for example. In that case, a collection call will be instantly transformed into a customer service issue and must be handled as such. So, the AR representative's customer service skills will need to be as good as their collection's skills.
10. Collections Do Not Have to be a Negative Experience
Chasing overdue accounts need not ruin the relationship with the customer. After all, a customer may genuinely experience short-term cash flow issues or merely forgotten to make the payment. If collections are handled with a customer-service-based approach, they can reflect positively on the brand. Sometimes, of course, a rigid approach to credit control will need to be adopted. However, in many cases, a sensitive and respectful approach to collections will get the desired result without alienating the customer.
The Bottom Line
The crucial point to bear in mind is that a sale is not complete until the invoice has been paid. So, all contact with the accounts receivable team is an element of the overall customer service experience. From the setting up of a customer account to the final payment, the AR team's actions are part of the brand experience. The AR department may fall under the finance and accounting umbrella, but it should still be considered a part of the customer service experience.
About Universal Funding
Universal Funding is a nationwide invoice factoring solutions leader, supporting growth-focused businesses with scalable factoring solutions. With its invoice factoring, payroll funding, and purchase order financing services, Universal Funding provides clients with the working capital needed to grow and support their businesses without taking on new debt. Ranked as one of the nation's top invoice factoring companies, Universal Funding provides cash flow financing for businesses all across the United States.